This sequential page is a homage to one of my favorite genres, the old School kung-fu movies I grew up on. When I was a young man, my oldest sister would take me to Times Square in New york city every weekend and we would spend hours in the theatre watching kung-fu flicks. Back then they showed 3 movies for the price of one in most of the theaters, so this was a kung-fu movie geeks heaven. The movies that stand out in my mind are the Shaw brother films and Sunny Cheba, and Jackie Chan flicks. Sunny Cheba in Street Fighter, The Five Deadly Venoms, The Kid with The Golden Arms and of course the 36th chambers of Shaolin a.k.a Master killer are among my favorites.
Rap groups , especially The Wu-tang Clan , were highly inspired by these old genre films. Wu-Tangs first album was named Enter The Wu-Tang 36 Chambers, they make reference to certain films throughout all of thier solo projects as well.
One of the most famous fans of this genre, Quintin Tarantino, hired Sunny Cheba and Gordon Lui ( the star of 36 Chambers), to make cameo appearances in his Kill Bill movies.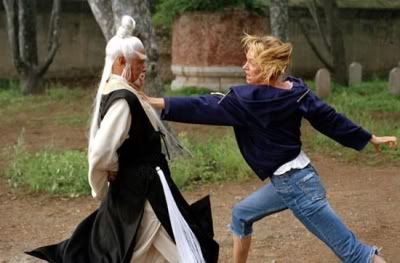 Here is my character , DA Shaolin Kid, in a story I call Lil' Master Killa.